Phu Quoc Pearl Farm
Phu Quoc pearl farms are the real deal. When visiting some of Phu Quoc pearl farms, keep in mind that according to culture pearl specialists. Phu Quoc pearl is ranked as the world's best kind: a must see stop in Vietnam would have to be the pearl farmers of Phu Quoc.
If you relish the feel of a string of pearls or feel sated with just one piece adorning a ring, then Phu Quoc Island is your paradise. Pearls have been farmed and cultured in this part of southern Vietnam for hundreds of years. Most of the pearl farms are located right after the row of resorts along Truong Beach or Long Beach, some 3 kilometers (1.9 miles) south of Duong Dong (the main city). What used to be a small-scale handicrafts industry on the island is now a major cottage industry and source of income, as pearl farms big and small are found in this road stretch on the western side of the island leading to the sea port town of An Thoi.
Phu Quoc pearl farms
Because of the huge income potential of pearl farming for the island's economy, the Foreign Investment Law of Vietnam sanctioned the cultivation of the South Sea Pearls and paved the way for the establishment of the Phu Quoc Pearl Farm in 1998.
It farms pearls for the local and global jewelry markets in a land area of 6,000 square meters (64,500 square feet) and marine area of 4 square kilometers (1.5 square miles). This pearl farm is complemented by a host of pearl centers located in this part of the island, many of them housing cultivation pools, a jewelry center and store in one complex. On the road going south you will be greeted with signages saying "Foreign-owned pearl center" or "Farm-cultivated pearls".
This process can be expedited through oyster implants (pearls are farmed in oysters both naturally and artificially). All the stages of pearl farming and jewelry-making can be found in one complex and this can be viewed by anyone interested, whether in a group tour or by oneself. You may be able to witness how oyster shells are cut open to retrieve pearls and how these pearls are bored, strung or placed on silver or gold ornaments.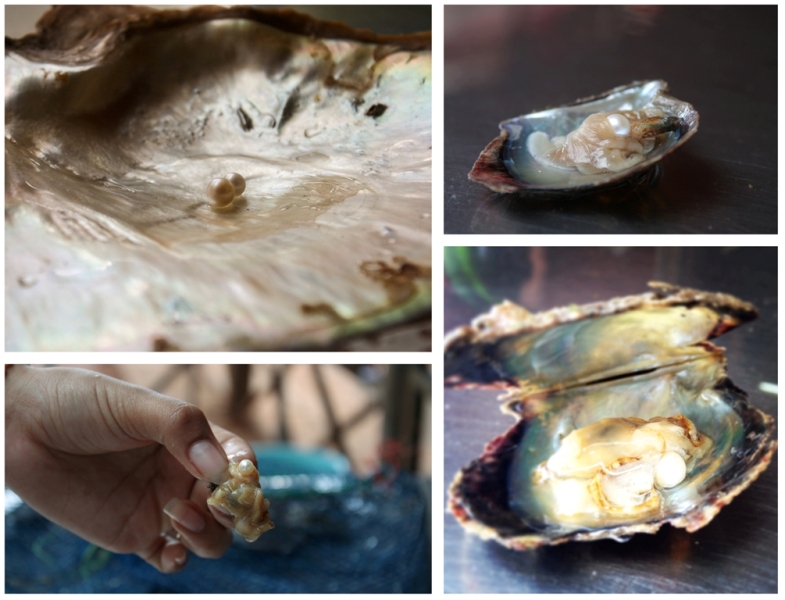 Pearl farming process
It consist in nucleating oysters with bits of old oyster shells. Depending on the expected shape of the pearl-to-be, pieces are gradually built up into a round or water-drop shape.
Farmers are required to select oysters aged between six months and two years. After nucleating, oysters are placed in cages, six per cage, which are then put on the sea bed. Cultured pearls are usually harvested after about two to three years.
During this period, the oysters must be cleaned weekly by removing barnacles from their shells. The water also must be kept clean to make pearls shiny and beautiful. The pearl is a solid substance in a spherical shape, produced by some species, mainly mollusca, including oysters and freshwater mussels.
Pearls from oysters and mussels can be made into rings, necklaces, earrings, bracelets and other things. Almost all the solid parts of oysters and mussels including their shells are useful. They can be made into buttons and engraved into furniture and fine arts articles while the soft parts offer nutritious food.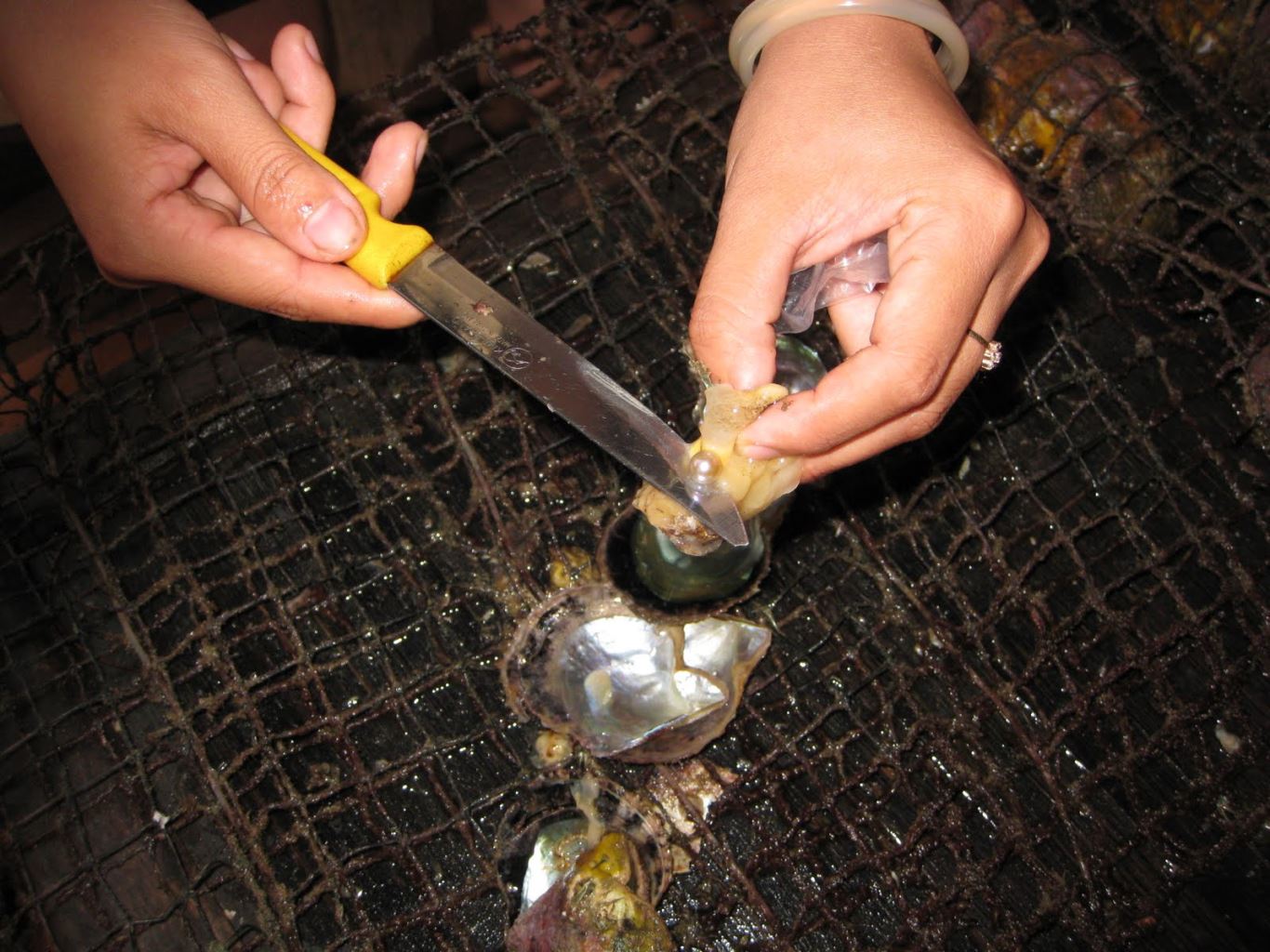 There is a reputation that foreign-owned pearl centers carry authentic and reasonably-priced pearl jewelry. This is not the case, however, as many of the foreign-owned and local-owned shops carry almost the same merchandise.
Pearl Farm's Address
1/ Ngọc Hiền Pearl's Farm
Duong Bao Hamlet , Duong To Town , Phu Quoc
2/ Quoc An Pearl's Farm