Cool down in Tranh Springs
Though the best time of the year for bathing at these places is generally from May to September, anytime with reasonable weather is a good time to enjoy a picnic or a stroll through the forest.
One of the best places for sightseeing at Phu Quoc's forest tourist Suoi Tranh (Tranh Springs or Painting Stream) stream painting with poetic, charming. With a length of 15km and original from Ham Ninh mountain, Suoi Tranh flows through the primitive forests, on rocks forming small interesting waterfalls. Away from Duong Dong town about 10km on the roads between Duong Dong - Ham Ninh, Suối Tranh is an attraction, camping favorite.
Nestled in the shadow of green forests, the trails lead to Suoi Tranh is covered with trees. The scene and air would be interesting because of the feeling of leaving the air of the sea behind to enter the cool air in the forest just a few minutes stepping on the trails.
On the streams is about 4 meters high waterfall, pouring down a lake at the foot waterfall, This is an ideal destination to relax, or watch the spring landscape to prepare for more exploration of the stream.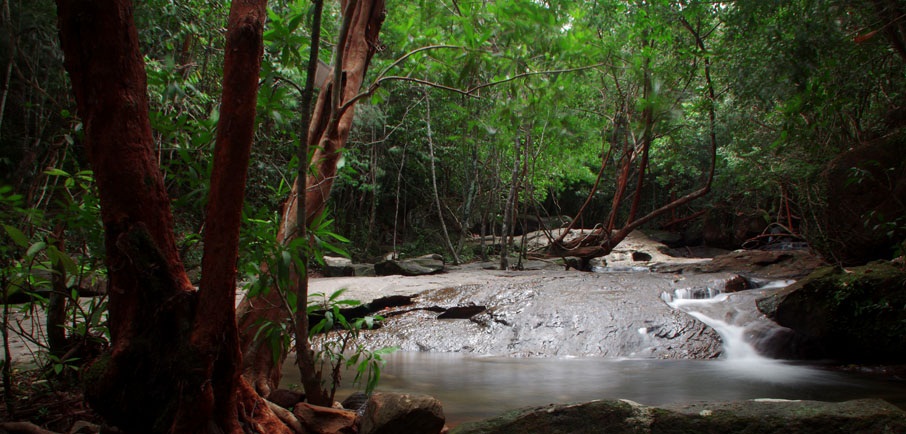 Trails, waterfalls, trees and surrounding landscape created a beautiful and perhaps they also the origin of the name of Suoi Tranh.
Near the spring there are many cave such as Bat Cave is located about 200 m high altitude on the mountain, deep as 50 m, there are many beautiful stalactites, fancy.