Bike Rental
Discover Phu Quoc travel by motorbike or bike extremely fun, you are easy and active in moving, visiting more places, save money.
MOTORCYCLE AND BICYCLE FOR RENTAL TOURS IN PHU QUOC
➤ Hotline: 09 655 655 98
➤ Adress: 3 Ly Thuong Kiet, Ward 4, Duong Dong town, Phu Quoc island
❖ When traveling in Phu Quoc, travelers often choose a motorbike as a means of transportation during exploration and enjoyment of the city as the Phu Quoc road is airy, fresh air, together.
❖ Currently, there are many services for renting motorbikes in Phu Quoc or renting bicycles in Phu Quoc. However, not all services are convenient for your sightseeing schedule.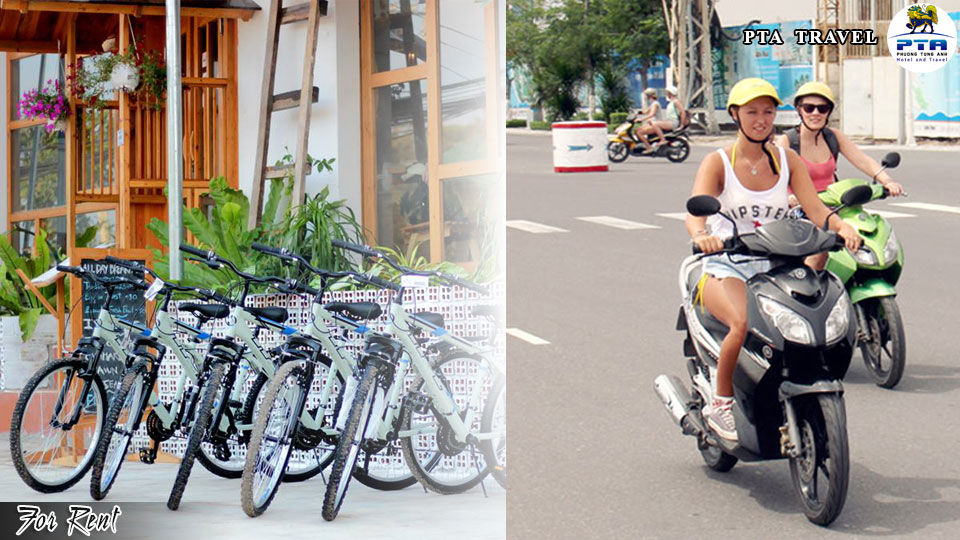 I. SHARE SOME EXPERIENCE WHEN RENTING MOTORBIKE FOR YOU:
✓ First of all you need a motorbike license: if you are Vietnamese, most people have a license, but for foreigners it is necessary to have an international motorbike license (because of road rules). Different sets of water may be different, when traffic on the road you can endanger the people involved and dangerous to yourself.
✓ Clear agreement on the price, the number of car rental, (if car rental in the day, the car at what time, the car at what time) to consider the time travelers, missed the schedule.
✓ If you travel in large groups, rent more cars, you can negotiate discount car rental. Rental rates range from 150-200k / day / car depending on number of cars or scooters. (Bicycle is about 150k / day / car).
✓ You should fill up with gasoline at the center of Duong Dong Town, as there are few gas stations on the way to the points of interest.
✓ Ask the motorcycle renter to check the car carefully for any damage, as if the mirror has been fitted two full, the wheel is not worn or worn out. Check the insurance of the car.
✓ There should be a paper map, as sometimes some places on the island can not use GPS because of wave flutter or no wave.
❖ For bikes it's a lot simpler: (because you do not need a driver's license and you have gas), besides negotiating the price, the service will check the car for you and lend you a helmet. And also bring a map again.
---
II. SERVICE FOR RENT MOTORBIKE AND BIKE AT PTA TRAVEL
✓ New and beautiful bike (motorbike) and variety of vehicles for visitors to choose from (scooter - scooter)
✓ Easy vehicles rental procedures, no deposit, only CMND with driver license
✓ Bring vehicles to hotel in town (on request)
✓ Especially bring vehicles to airport - dock (on request)
❖ RENT COST
✓ Scooter 200,000 VND / day / day (excluding gasoline)
✓ Motorcycle No 150.000 VND/ vehicle/ day (excluding gasoline)
✓ Bicycle 150.00 VND/ vehicle/ day
I wish you a trip to explore Phu Quoc by motorcycle fun and enjoyable experience. Note that the safety issue must still be on the forefront for a good trip.
---
All contact info:
HCM Office: 1250 – 1252 Vo Van Kiet Street- Ward 10, District 5
Phu Quoc Office: 3 Ly Thuong Kiet, Ward 4, Duong Dong Town
Hotline: (+84)9 655 655 98 - Tel: +842973 97 66 99 | Fax: +842973 97 66 77
Website: www.ptapq.com | Email: info@ptapq.com
Inbound Tour Operator Licence No: 79-585/2015/TCDL-GP LHQT
Map PTA Travel
---