CAN THO
Can Tho is the fourth-largest city in Vietnam, and the largest city in the Mekong Delta.
Can Tho (or Cantho; Vietnamese: Cần Thơ) is the biggest city of the Mekong Delta, in Vietnam with an estimated population of 1,5 million as of 2012. The name comes from "Cầm Thi Giang" - The River of poems. It is also referred to as "Tay Do" meaning "Western capital". The city is famous for its floating markets, Buddhist pagodas, delicious food and fresh fruits and the beauty of the Mekong delta.
Geography
Can Tho city's topography is relatively flat, and rising from the north to the south. The north region included the districts of Thot Not, O Mon, and Chau Thanh is sunken. Therefore, it is often flooded in rainy season in September.
This city has a complex of rivers and canals such as Hau, and Can Tho rivers, Thot Not, O Mon canals. Among them, the Hau River is considered a benefactor of this region, since yearly floods deposit large quantities of alluvia to the rice fields.
Being the capital of the Mekong delta Vietnam, Can Tho is a thriving metropolis with huge streets, little action and loads of mosquitoes. Although Can Tho has its own market by the riverside, where you can get excellent ice-cream, the principal attraction would have to be the nearby floating markets. Being rather industrious, the centre of Can Tho is quite busy and noisy with motorised cyclos roaring up and down the streets combined with throngs of people going about their lives. Can Tho also has a number of pagodas worth visiting. For the trivia fans, Can Tho is the home to much of Vietnam's fish sauce.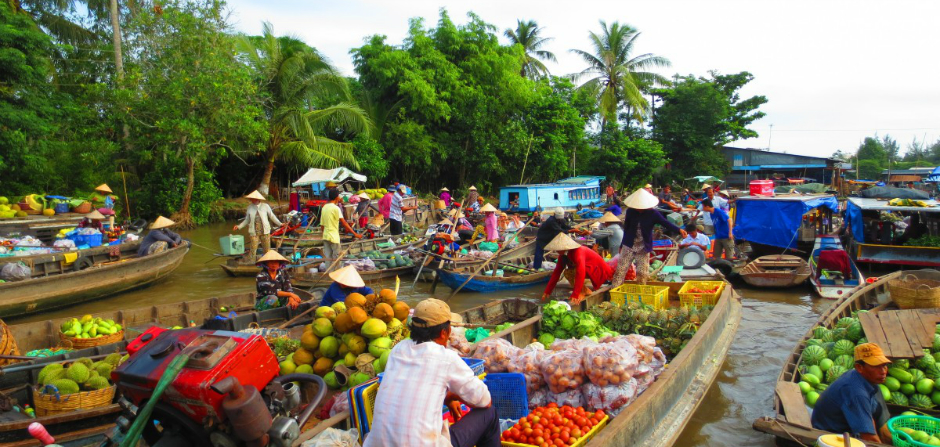 Cai Rang floating market is situated about 8 km from Can Tho by road or a 20 km loop by boat. This market is quite nice and sells a variety of fruit and vegetables and operates from 5 am to 11 am, though the markets are better the earlier you can get there. A cyclo from Can Tho will take about 15 minutes to get to Cai Rang Market. Another market, Phung Hiep market, is 31 km from Can Tho. This is the snake market, selling a plethora of living, wriggling and often poisonous snakes. Pythons and Cobras are sold here by people from the countryside who have caught them by hand, whilst others have come to purchase snakes for restaurants, medicinal reasons or personal consumption. This market is open from 5 am to 5 pm. If travelling by boat, you can add a dimension to your day by stopping and visiting some of the fruit gardens, which sell pineapple, rambutan and papaya amongst many other fruits.
Climate
The climate of this province is tropical and monsoonal with two seasons: rainy, from May to November; and dry, from December to April. Average annual temperature is 27 °C.
Tourism
Can Tho is over its 200 years as the main town, once known as Western Capital (Tay Do) and now one city of Vietnam. All of economic, culture activities closely relate to river and canals which like the 'street'. Can Tho has simple, poetic beauty with well-off villages under shade of coconut trees. It is wonderful to take a boat trip along the riverbanks on fine weather days. On the east bank of Hau River is Ninh Kieu Wharf, which is well known for its beautiful location and special architecture. It is located close to the centre of the city on the bank of Hau River, a tributary of the Mekong River. It's the city main trading center.
Other interesting places are Bang Lang Stork Sanctuary, Can Tho and My Khanh Tourist Gardens and Binh Thuy Communal House. Binh Thuy Communal House is also the place where hold the festival dedicated to the spirit of the land and Dinh Cong Trang. The mian purpose of this festival is to pray for a peaceful existence.
Visiting Can Tho, tourists will be impressed by floating markets. Visiting floating markets is one of the most attractive tours in Can Tho. Floating markets are situated on the banks of wide stretches of river. Cai Rang and Phong Dien Floating Markets are two of the major markets in Can Tho as well as in the Mekong Delta.

Transportation
Can Tho is 34km from Vinh Long, 62km from Long Xuyen, 63km from Soc Trang, 104km from My Tho, 116km from Rach Gia, 117km from Chau Doc, 169km from Ho Chi Minh City and 179km from Ca Mau. Besides, Can Tho has Cai Cui international seaport and the city is the centre of waterway network of Mekong Delta. There are daily hydrofoils between Ho Chi Minh City and Can Tho City.