CHAU DOC
Chau Doc is a city in An Giang Province, bordering Cambodia, in the Mekong Delta region of Vietnam.
Chau Doc is located in An Giang Province in the Mekong Delta. It lies 250 km west of Ho Chi Minh City, close to the Cambodian border. In this area there are traces of some turbulent periods in Vietnamese history. In the neighbourhood of Chau Doc you will find Cham and Khmer. There are also many pagodas and temples in and around Chau Doc. Because of Thoi Son Mountains Range there is are beautiful natural sceneries to be discovered.
Location
Chau Doc, or Châu Đốc in the Vietnamese spelling, is located in the northwest part of the Mekong Delta close to the border with Cambodia, about 250 km west of Ho Chi Minh City. The city lies between the Hau Giang river, a branch of the Mekong River, and the man-made Vinh Te Canal. Sam Mountain lies 6 km from Chau Doc and from here you have an excellent view of the flat plains surrounding the mountain. You can travel to Phnom Penh in Cambodia by boat from Chau Doc.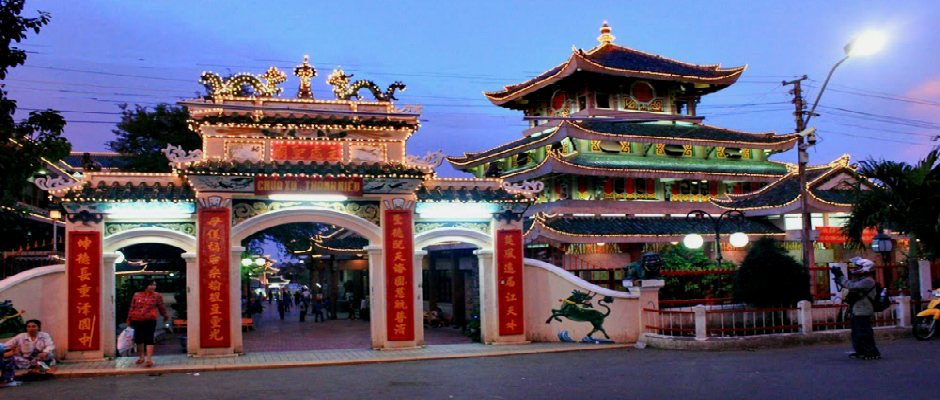 History of Chau Doc
Chau Doc belonged to the territory of the various kingdoms that dominated the area of the Mekong Delta, like the Kingdom of Funan, the Kingdom of Chenla and the Khmer Empire. Around 1600 Vietnamese were allowed to settle near what is now known as Ho Chi Minh City, but at that time was called Prey Nokor. The Vietnamese started a custom house which they called Sai Gon. The territory became Vietnamese about 300 years ago, when, Mac Cuu, a Chinese general, began to expand Vietnamese and Chinese settlements deeper into the Khmer empire. In 1691, Prey Nokor was occupied by the Vietnamese and in 1698 Vietnamese administrative structures were established in the area. In 1802 it became part of the Gia Long Kingdom. In 1815, King Gia Long (Nguyen Anh) of the Nguyen Dynasty ordered the construction of Chau Doc Fort on the western bank of the river. A Chinese mandarin named Diep Hoi was assigned as head of Chau Doc and to encourage people to settle and work in this area loans would be granted to immigrants to reclaim land or set up businesses on these wild, wet lands. Three years after the Fort was built, Gia Long launched another scheme to stimulate economic development of the Mekong Delta as well as reinforce his defenses against Siam (nowadays Thailand) troops, should they attack. Nguyen Van Thoai (also known as Thoai Ngoc Hau) supervised the construction of Thoai Ha and Vinh Te canals which cleared the waterways between Chau Doc and Rach Gia and Ha Tien ports. With the establishment of canals and roads, Chau Doc also attracted more and more settlers. In the 1860s it became part of Cochinchina, the first name for the French colony, and after that, part of French Indochina. When Vietnam became independent from France the Mekong Delta became part of Vietnam.
After the Vietnam war and after the country was split into North and South Vietnam, thousands of Viet Minh (Northern Vietnamese) cadres had stayed behind. The North Vietnamese government maintained that a referendum on unification in line with the Geneva Accords would go ahead. As part of the violence against the South Vietnamese government of Ngo Dinh Diem, anti-Diem insurgents attacked a bar in July 1957 in Chau Doc and killed 17 people who were inside. The killings were part of a low-level campaign targeting South Vietnamese officials.
In the 1970s, the Khmer Rouge regime attacked Vietnam in an attempt to conquer the Mekong Delta region again. There is a memorial of the victims of this attack in Ba Chuc. This campaign caused a Vietnamese invasion in Cambodia and subsequent fall of regime of Pol Pot and the Khmer Rouge.
Chau Doc Today
Chau Doc is famous for its variety of fish sauces (nước mắm) and mainly "mắm tai", some kind of anchovy. The local economy is based on culture of basa catfish export and on tourism. The town is a busy trading center due to its border position with Cambodia. Nowadays, Vietnamese, Chinese (Hoa) Cham and Khmer live together in harmony in the city and its close surroundings. They have maintained their own culture and tradition which is visible from their looks and clothing and the buildings. Its cultural diversity, visible from the mosques, temples, churches and nearby pilgrimage sites, makes it a fascinating place to explore. The Vietnamese and Chinese people live in general in the center, the Cham along the Hau River and the Khmer at the border of Chau Doc near Cambodia.
How to get to Chau Doc
By bus
The bus station is located 4 km east of the center of Chau Doc. There are regular express buses from Chau Doc to Ho Chi Minh City's Mien Tay station (6-7 hours including two ferry crossings). There are also buses from Chau Doc to Long Xuyen, Can Tho, Ha Tien, Rach Gia and other destinations throughout the Mekong Delta, and the other way around.
By boat
You can take a boat tour from Ho Chi Minh City all the way to Chau Doc or just start in Long Xuyen or Can Tho. Simple cargo boats run twice weekly between Chau Doc and Ha Tien via the Vinh Te Canal and you can use a cargo boats to travel to and from Vinh Long. You can also come by boat from Phnom Penh or departure from Chau Doc for Cambodia.
By car and motorbike
You can hire a car or motorbike to visit the various sights.
Getting around in Chau Doc
Chau Doc is relatively small, so you can reach many destinations in Chau Doc itself on foot. To visit Sam Mountain you can take a bus from the center or take a taxi. Some of the destinations can only be reached by boat, so you need to hire a boat. There are no ferries that stop at the various touristic destinations. Xe Dap Loi or Xe Om drivers will take you anywhere, and are the best, quickest and cheapest way of getting around.
Weather in Chau Doc
The weather is divided in two seasons: rainy from May to November and dry from December to April. The annual average temperature is 27° C. The highest temperature is 35°-37° C from April to May and the lowest is 20°-21°C from December to January. The annual rainfall is 1,400-1,500 mm.